Posts for: September, 2012
By Thomas Kemlage DDS
September 26, 2012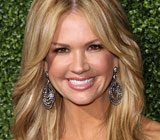 When her daughter Ashby was born in 2007, Nancy O'Dell was overjoyed; but she found the experience of pregnancy to be anxiety-provoking. O'Dell is host of the popular entertainment news show Entertainment Tonight.
After her baby was born she compiled her memories and thoughts into a book for first-time pregnant mothers. The book, "Full of Life: Mom to Mom Tips I Wish Someone Had Told Me When I Was Pregnant," covers a wide range of topics — including oral health during pregnancy.
"While my dental health has always been relatively normal, pregnancy did cause me some concern about my teeth and gums. With my dentist's advice and treatment, the few problems I had were minimized," O'Dell told Dear Doctor magazine. An example of her experience is a craving for milk that started at about the time the baby's teeth began to form. She felt that her body was telling her to consume more calcium.
As often happens with pregnant mothers, she developed sensitive gums and was diagnosed with "pregnancy gingivitis," the result of hormonal changes that increase blood flow to the gums.
"I love to smile," said O'Dell, "and smiles are so important to set people at ease, like when you walk into a room of people you don't know. When you genuinely smile you're able to dissolve that natural wall that exists between strangers."
Contact us today to schedule an appointment to discuss your questions about dental health during pregnancy. You can also learn more by reading the Dear Doctor magazine article "Nancy O'Dell."
By Thomas Kemlage DDS
September 10, 2012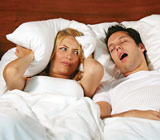 Do you constantly feel like you are running on empty? Do you snore, feel like napping every day, or even drink multiple cups of coffee just for the caffeine boost? You may have a sleep related breathing disorder (SRBD) or Sleep Apnea ("a" – without; "pnea" – breath) in which your airways become obstructed causing chronic loud snoring. The good news is that we can help both diagnose and treat this disorder, which means you will be able to finally get the rest that you (and your sleeping partner) so desperately need.
The reason that sleep apnea is so disruptive to daily living is that it causes awakening for a few seconds up to 50 times per night, significantly decreasing the amount of deep sleep that is necessary for full rejuvenation. Airway blockage during sleep commonly results from obesity, an enlarged tongue or tonsils, and other factors that can cause your airway to close off when you lie down, all increasing the likelihood that you will suffer from sleep apnea. These conditions are dangerous and impair the brain and heart from receiving adequate oxygen, increasing your risk for both stroke and heart attack.
The study of sleep and its disorders is relatively new. One successful way to treat sleep apnea is with a "CPAP" machine which uses a Continuous Positive Airway Pressure mask overnight to keep air passages open while sleeping. Another more comfortable, less noisy, and unobtrusive method is to use Oral Appliance Therapy, which features an appliance like a retainer that can be custom fitted to your mouth made by a dentist trained in sleep medicine.
And yes, dentists are increasingly being recruited to help study and treat sleep disorders. There are actually several ways in which we can help. Because we see our patients on a regular basis, we are uniquely qualified to diagnose early signs of SRBDs. For example, if you start to snore almost immediately after falling asleep in the dental chair, we will be able to discuss this important warning sign with you. We can also examine the back of your mouth to see if you possess any of the traits that point to SRBDs, including large tonsils and/or an elongated uvula — the tissue in the back of your throat that looks like a little punching bag.
So, if you want to stop snoring and start sleeping well or you think you may have a SRBD, call our office to schedule a basic oral exam and consultation. If you would like to learn more about the link between dentistry and the treatment of sleep disorders, read the Dear Doctor magazine article "Sleep Disorders & Dentistry."