Posts for: September, 2013
By Thomas Kemlage DDS
September 23, 2013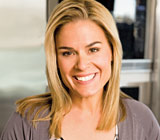 When asked about her dazzling white smile, Cat Cora, the first female iron chef on the hit television series Iron Chef America, freely admits to maintaining the brightness of her smile with professional whitening sessions.
"With what I do, whitening your teeth is like getting your hair done, your nails done and everything else you have to do to be on television," Cat recently told Dear Doctor magazine. However, she does have her limits. "I want my teeth to be white and healthy looking — but not stark white or looking like they could glow in the dark," she said with a laugh.
Cat's perceptions and experiences with tooth whitening may accurately describe Hollywood, but through the power of media, celebrities and their respective fan bases, having attractive white teeth has become a goal for most people. This is because white teeth are subconsciously associated with youth and virility.
Here in the dental office, we can use professional-strength "power bleaching" to whiten teeth several shades in a single visit. To prevent irritation to the area surrounding the teeth being treated, we isolate the gums and skin of the mouth with a protective gel or a rubber barrier known as a dental dam. After the whitening solution is placed on the teeth, the process may be supplemented by heat or a light source to activate or enhance peroxide release.
For bleaching teeth at home, our office can make custom-fitted bleaching trays that you fill with a gel form of carbamide peroxide. Sometimes this whitening gel can cause a temporary tooth sensitivity to hot and cold, but this normally lasts for no more than four days after you stop bleaching your teeth.
To learn more about tooth whitening, you can continue reading the Dear Doctor magazine article "Teeth Whitening." Or you can contact us today to schedule an appointment so that we can conduct a thorough examination and discuss what treatment options will be best for you. And to read the entire interview with Cat Cora, please see the article "Cat Cora."
By Thomas Kemlage DDS
September 13, 2013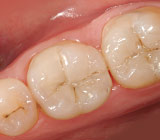 Tooth-colored fillings are just one of the many ways that cosmetic dentistry has evolved over the past few decades. There was once a time where having a cavity treated meant that you would be left with a noticeable metal filling. However, today we have an array of tools and materials available that help make tooth repair more like creating a fine piece of art.
Tooth-colored fillings are made of composite resin, which is a mixture of plastic and glass. Composite resin is not only more aesthetically pleasing, but also better for your teeth than metal fillings. Metal fillings can require your dentist to remove healthy parts of your tooth to create a ledge (undercut) that locks the filling in place. Tooth-colored fillings do not need this undercut to stay in place. In fact, they physically attach, or bond, to natural tooth structure. The procedure is also very simple. We'll apply the composite resin directly to your teeth, sculpt it and then finally harden it with a special light. When you see the results, you will be amazed at how natural and lifelike the restoration appears.
Another advantage of tooth-colored fillings is that they are strong and flexible. When you bite or chew, they will absorb and transfer the forces, just like your natural teeth. Metal fillings are strong, but they are also stiff, which can stress your teeth and make them more susceptible to cracking.
During your examination, we will evaluate if tooth-colored fillings are the best tooth repair option. If your cavity is too large for composite resin, we may recommend a porcelain filling. This procedure may require two appointments: the porcelain filling will be crafted in a dental laboratory, and we will then place this filling at your next visit.
If you would like more information about tooth-colored fillings, please contact us or schedule an appointment for a consultation. You can also learn more by reading the Dear Doctor magazine article "The Natural Beauty of Tooth-Colored Fillings."