Posts for: April, 2015
By Thomas Kemlage DDS / Andrew T. Kemlage DDS
April 23, 2015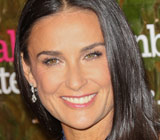 Once upon a time, a well-known Hollywood actress might have hired a private eye to keep unflattering pictures from appearing in the media. Today, that's no longer the case. Take timeless beauty Demi Moore: In a widely circulated set of photos, her gap-toothed grin showed she was actually missing one of her front teeth!
It turns out the actress released the pictures herself, as she live-tweeted the tooth replacement procedure from her dentist's office. Moore later explained that the tooth fell out suddenly as she was sitting at her desk.
Celebrities are just like regular folks… except they have more followers on twitter. So we're happy when they show us that no matter how bad a dental problem may seem, there's almost always a way to regain a gorgeous-looking smile. We're not sure exactly how Demi's dentist chose to restore the damaged tooth — but depending on the individual circumstances, modern dentistry offers a number of ways to close the gap.
A crown (or cap) is a replacement for the entire visible area of the tooth. It may be needed due to accident or trauma, or as a follow-up to root canal therapy. Placing a crown usually requires more than one office visit. First, the tooth is prepared by removing any decay and shaping it, and a precise model is made of the bite. Next, the permanent crown is custom-made in a dental laboratory; this is placed during a subsequent visit. Advances in technology, however, have made it possible in some instances to deliver the permanent crown in a single office visit. If the tooth still has a healthy root structure, a crown is usually a viable option — even when most of the visible part is gone.
What if the entire tooth, including the roots, are missing? Then your replacement options could include bridgework or a dental implant. A fixed bridge is a series of crowns joined together as one unit. The teeth on either side of the gap are prepared just as they would be for crowns, and the bridge (including a replacement for the missing tooth in the middle) is attached. Bridges have been used successfully for many years, but they have a drawback: They require enamel to be removed from the healthy teeth on either side of the gap, which could lead to a greater chance of decay, gum disease, or a root canal in the future.
The optimal solution, however, might be a dental implant. With this remarkable technology, the replacement tooth is solidly anchored into the jaw via a screw-shaped post made of titanium — a metal which actually becomes fused with the living bone tissue. A custom-made, lifelike crown is then securely attached to the metal implant. Dental implants are the most successful tooth-replacement procedure; they help preserve bone quality in the jaw — and with regular care, they can last a lifetime.
So if your smile is making you camera-shy, why not talk to us about your tooth-restoration options? If you would like additional information, please contact us or schedule an appointment for a consultation. You can learn more by reading the Dear Doctor magazine articles "Crowns & Bridgework" and "Dental Implants."
By Thomas Kemlage DDS / Andrew T. Kemlage DDS
April 08, 2015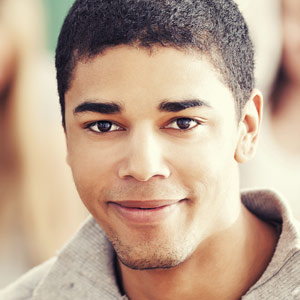 Besides reduced biting and chewing function, a missing tooth can cause an embarrassing inhibition to healthy social interaction. This can be especially so for teens who greatly value peer relationships and acceptance.
Be that as it may, we typically discourage a permanent replacement for teens with a missing tooth, particularly dental implants. While we value a patient's psychological needs, the long-term effect on dental health may be too great to advise otherwise.
The effect we're concerned with involves jaw growth and development. Although a person's permanent teeth have usually all erupted by early adolescence, the jaws continue to grow until the late teens or early twenties. Natural teeth can adapt to this growth because the periodontal ligament that holds them in place allows for incremental tooth movement. The teeth move in response to jaw growth and are thus able to maintain their proper relationship and alignment in the jaw as growth occurs.
Dental implants, on the other hand, are imbedded into the jaw bone: they, therefore, can't move like natural teeth and thus can't adjust their position with jaw growth, particularly the upper jaw as it grows forward and down. This can result in the implants appearing as though they are left behind or retreat into the jaw. It can also affect the position of the gums and inhibit their growth around the implants.
It's best then to hold off implants and other permanent restorations until the jaw has finished developing. That, however, isn't always easy to determine: specialized x-ray diagnostics may help, but it's not an exact science. Your input as a parent will also be helpful, such as whether you've noticed the end of growth spurts (not changing clothes or shoe sizes as often) or your child's recent similarity in appearance to other adult members of your family. It thus becomes a judgment call, based on examination and experience, as to whether it's safe to proceed with implants — and may require erring on the side of caution.
In the meantime, there are temporary restorations that can improve appearance while you wait for the appropriate time to undertake a permanent restoration. Two of the most useful are removable partial dentures (RPDs) or a bonded bridge, a less invasive form of the traditional bridge. With a proper assessment we can advise you on which option is your best choice.
If you would like more information on tooth restorations for teenagers, please contact us or schedule an appointment for a consultation. You can also learn more about this topic by reading the Dear Doctor magazine article "Teenagers & Dental Implants."