Posts for tag: periodontal disease
By Thomas Kemlage DDS / Andrew T. Kemlage DDS
January 31, 2017
It takes only a short time neglecting your oral hygiene before you begin to notice some unpleasant things with your gums: swelling, redness or even bleeding. These are all signs of gingivitis, a periodontal (gum) disease that arises from bacterial plaque, a thin biofilm that builds up on tooth surfaces when a person doesn't brush or floss.
Fortunately, early stages of gingivitis can be treated effectively with comprehensive plaque removal during one or more office visits. If, however, it's not dealt with early, it can develop into something much more serious: acute necrotizing ulcerative gingivitis (ANUG). This form does more than leave you with unattractive teeth and gums and terrible breath — it could eventually cause you to lose your teeth.
ANUG is also known as trench mouth, a common ailment among front line World War I soldiers without access to proper dental care and hygiene. It's most prevalent today among individuals who are under a great deal of stress, not sleeping or eating well and haven't cleaned or properly cared for their teeth for an extended period of time. Tobacco smokers also seem more susceptible than non-smokers to the disease, perhaps because smoke dries the mouth and changes the bacterial environment.
Unlike common gingivitis, ANUG can be quite painful. In effect, the gum tissues begin to die (necrotize), especially the triangular peaks between teeth known as papillae. Besides the other symptoms of gingivitis, the tissues may become yellowish.
ANUG can be treated effectively. The first step is to relieve the symptoms of pain and inflammation through medication. The focus then shifts to treating the underlying cause, bacterial plaque. Besides plaque removal common in any treatment for gum disease, we may also need to initiate antibiotic therapy. Metronidazole is a common antibiotic that's been demonstrated effective against the specific bacterial strain associated with ANUG. We might also combine this with an antibacterial mouth rinse containing chlorhexidine.
The final step belongs to you: to keep ANUG or any other gum disease from reoccurring, it's important for you to adopt a daily regimen of brushing and flossing, along with regular dental visits for thorough teeth cleaning and checkups. Taking this proactive approach will help ensure you won't suffer from this painful and unattractive form of gingivitis again.
If you would like more information on acute gingivitis, please contact us or schedule an appointment for a consultation. You can also learn more about this topic by reading the Dear Doctor magazine article "Painful Gums in Teens & Adults."
By Thomas Kemlage DDS
March 18, 2014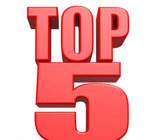 Do you have gum disease? According to the U.S. Centers for Disease Control, about half of the adults in America have a mild, moderate or severe form of this disease. But if you're 65 or older, your chance of having it goes up to 70 percent! Periodontal (gum) disease is sometimes called a "silent malady" because major symptoms may not appear until it has reached an advanced stage. How can you recognize the early warning signs? Here are some clues to look for:
Redness and irritation of gums. Having red, swollen or sore gums can be a sign of gum disease; however, it could also result from brushing your teeth too vigorously, or using a brush with hard bristles. That's why we recommend using a soft-bristled brush and a gentle cleaning stroke. If you're doing this but you still have irritated gums, it could be an early signal of gum disease.
Bleeding when you brush. Despite what you may think, this is never a normal occurrence. If your gums regularly bleed after brushing, it's usually an indication that gum disease is present. You should come in for an examination as soon as possible.
Bad breath or a bad taste in your mouth. Bad breath or unpleasant tastes could be caused by what you ate last night — or they could result from gum disease. If the odor or taste is persistent — that is, if it doesn't seem to go away over time — it could indicate a problem with your gums.
Gum recession. When you have gum recession, the healthy, pink tissue surrounding the teeth begins to pull back, or recede. This exposes more of the tooth's structure — even its roots — and makes teeth look longer. While gum recession is a common condition that is primarily caused by periodontal disease, many people don't realize they have it because it occurs so gradually. They also may not realize that by the time it is noticed, some underlying bone tissue has already been lost. Gum recession is a condition you shouldn't ignore: If left untreated, it can result in the destruction of more gum and bone tissue, and even tooth loss.
Tooth Sensitivity or pain when chewing. Many things can cause tooth pain or sensitivity: an old filling, tooth decay, even a cracked tooth or a root canal problem. Gum disease can also cause this unpleasant sensation. Receding gums may expose the tooth's roots, which aren't as well protected from the mouth's harsh environment as the chewing surfaces; this may cause a sensation of pain when chewing or brushing. If this sensation persists, it's time for an examination to find out what's causing it.
Gum disease is a widespread problem — but it's also very treatable. If you would like more information, call our office to arrange a consultation. You can learn more in the Dear Doctor magazine articles "Warning Signs of Periodontal (Gum) Disease" and "Understanding Gum (Periodontal) Disease."