Posts for tag: snoring and sleep apnea
By Thomas Kemlage DDS
September 10, 2012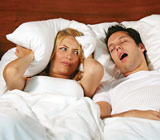 Do you constantly feel like you are running on empty? Do you snore, feel like napping every day, or even drink multiple cups of coffee just for the caffeine boost? You may have a sleep related breathing disorder (SRBD) or Sleep Apnea ("a" – without; "pnea" – breath) in which your airways become obstructed causing chronic loud snoring. The good news is that we can help both diagnose and treat this disorder, which means you will be able to finally get the rest that you (and your sleeping partner) so desperately need.
The reason that sleep apnea is so disruptive to daily living is that it causes awakening for a few seconds up to 50 times per night, significantly decreasing the amount of deep sleep that is necessary for full rejuvenation. Airway blockage during sleep commonly results from obesity, an enlarged tongue or tonsils, and other factors that can cause your airway to close off when you lie down, all increasing the likelihood that you will suffer from sleep apnea. These conditions are dangerous and impair the brain and heart from receiving adequate oxygen, increasing your risk for both stroke and heart attack.
The study of sleep and its disorders is relatively new. One successful way to treat sleep apnea is with a "CPAP" machine which uses a Continuous Positive Airway Pressure mask overnight to keep air passages open while sleeping. Another more comfortable, less noisy, and unobtrusive method is to use Oral Appliance Therapy, which features an appliance like a retainer that can be custom fitted to your mouth made by a dentist trained in sleep medicine.
And yes, dentists are increasingly being recruited to help study and treat sleep disorders. There are actually several ways in which we can help. Because we see our patients on a regular basis, we are uniquely qualified to diagnose early signs of SRBDs. For example, if you start to snore almost immediately after falling asleep in the dental chair, we will be able to discuss this important warning sign with you. We can also examine the back of your mouth to see if you possess any of the traits that point to SRBDs, including large tonsils and/or an elongated uvula — the tissue in the back of your throat that looks like a little punching bag.
So, if you want to stop snoring and start sleeping well or you think you may have a SRBD, call our office to schedule a basic oral exam and consultation. If you would like to learn more about the link between dentistry and the treatment of sleep disorders, read the Dear Doctor magazine article "Sleep Disorders & Dentistry."
By Thomas Kemlage DDS
July 09, 2012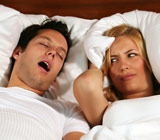 If you wake yourself by snoring or have been told by others that you snore, you should share this fact with us during your next visit. Why? Many people are shocked to learn that their dentist is a vital resource for treating snoring and Obstructive Sleep Apnea (OSA), a condition that occurs when the upper airway (back of your throat) is blocked or obstructed causing significant airflow disruption or even no airflow whatsoever for 10 seconds or more.
Self Test For Sleep Apnea
While your responses to the following questions are not a diagnosis for OSA, they can be warning signs that you may have OSA or another condition that is impacting your sleep.
Are you a loud habitual snorer?
Has anyone ever witnessed you holding your breath, gasping for air or even choking while asleep?
Do you regularly feel un-refreshed or tired even after waking from eight or more hours of sleep?
Do you find yourself easily falling asleep throughout your day at work or at home?
Do you suffer from poor concentration or judgment, memory loss, irritability and/or depression from lack of sleep?
Are you 15 pounds over the normal weight range for your height and/or does you neck measure more than 17 inches around if you are male and 16 inches if you are female?
If you answered, "yes" to any of the above questions, you should share your responses to all of these questions with both your physician and us so that you can receive a thorough examination to address your sleep concerns. And if you are diagnosed with OSA, we can help with specific oral treatment options that may work best for you.
Learn More
Learn more about the signs, symptoms, and treatment options when you read "Snoring & Sleep Apnea." Contact us today to discuss your questions or to schedule a consultation.