Posts for tag: tooth colored fillings
By THOMAS KEMLAGE DDS / ANDREW T. KEMLAGE DDS
June 06, 2018
If you have a metal filling, it may show when you smile. Does every cavity have to have an amalgam restoration? The answer is no. In fact,
today's preferred filling materials are tooth-colored composite resin, porcelain, or glass ionomer. Let Dr. Thomas Kemlage and Dr. Andrew Kemlage, your dentists in Fenton, MO, tell you about the bright, beautiful fillings they place at Kemlage Family Dentistry.
What is a cavity anyway?
It's a hole in your tooth enamel caused by acids produced by oral bacteria. Found in plaque and tartar, these active microbes eat through that hard outer layer, and if not treated by your Fenton, MO, dentist, they invade the dentin and inner pulp. Fillings repair decay, and for more extensive cavities, which can be accompanied by infection, dental crowns and root canal therapy may be in order.
What is a filling?
For generations, dentists have halted decay at its earliest possible stages. Unfortunately, their dark and very obvious appearance has bothered both patients and dentists. Also, to place them securely, metal fillings require extensive enamel preparation, often weakening healthy enamel over time.
Today, however, your dentists in Fenton, MO, have tooth-colored materials which blend in with your tooth natural color. Bonded in place and strengthened with a curing light, composite resin, porcelain, and glass ionomer fillings are just as strong as your real tooth enamel. Plus, your dentist removes only the decay--not any extra enamel--in order to fill the tooth properly.
Specifically, composite resin is a mixture of glass particles and acrylic. It installs in layers, and the doctor cures each one. This material repairs chips, cracks and other cosmetic defects seamlessly, and the material flexes with the pressure of biting and chewing in the same way tooth enamel does.
Regarding porcelain, dentists use this tried and true ceramic to create partial crowns. These large fillings fit in between or over the cusps of a tooth, protecting and supporting a large area of its structure.
Many excellent choices
Dental restorations truly are better than ever, conferring strength, beauty and longevity to a damaged tooth. When you come to Kemlage Family Dentistry for your next routine exam and cleaning, ask about tooth-colored fillings and other innovative dental materials. Call for your appointment at (636) 225-1777.
By Thomas Kemlage DDS
September 13, 2013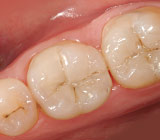 Tooth-colored fillings are just one of the many ways that cosmetic dentistry has evolved over the past few decades. There was once a time where having a cavity treated meant that you would be left with a noticeable metal filling. However, today we have an array of tools and materials available that help make tooth repair more like creating a fine piece of art.
Tooth-colored fillings are made of composite resin, which is a mixture of plastic and glass. Composite resin is not only more aesthetically pleasing, but also better for your teeth than metal fillings. Metal fillings can require your dentist to remove healthy parts of your tooth to create a ledge (undercut) that locks the filling in place. Tooth-colored fillings do not need this undercut to stay in place. In fact, they physically attach, or bond, to natural tooth structure. The procedure is also very simple. We'll apply the composite resin directly to your teeth, sculpt it and then finally harden it with a special light. When you see the results, you will be amazed at how natural and lifelike the restoration appears.
Another advantage of tooth-colored fillings is that they are strong and flexible. When you bite or chew, they will absorb and transfer the forces, just like your natural teeth. Metal fillings are strong, but they are also stiff, which can stress your teeth and make them more susceptible to cracking.
During your examination, we will evaluate if tooth-colored fillings are the best tooth repair option. If your cavity is too large for composite resin, we may recommend a porcelain filling. This procedure may require two appointments: the porcelain filling will be crafted in a dental laboratory, and we will then place this filling at your next visit.
If you would like more information about tooth-colored fillings, please contact us or schedule an appointment for a consultation. You can also learn more by reading the Dear Doctor magazine article "The Natural Beauty of Tooth-Colored Fillings."