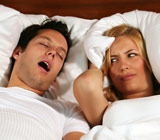 If you wake yourself by snoring or have been told by others that you snore, you should share this fact with us during your next visit. Why? Many people are shocked to learn that their dentist is a vital resource for treating snoring and Obstructive Sleep Apnea (OSA), a condition that occurs when the upper airway (back of your throat) is blocked or obstructed causing significant airflow disruption or even no airflow whatsoever for 10 seconds or more.
Self Test For Sleep Apnea
While your responses to the following questions are not a diagnosis for OSA, they can be warning signs that you may have OSA or another condition that is impacting your sleep.
Are you a loud habitual snorer?
Has anyone ever witnessed you holding your breath, gasping for air or even choking while asleep?
Do you regularly feel un-refreshed or tired even after waking from eight or more hours of sleep?
Do you find yourself easily falling asleep throughout your day at work or at home?
Do you suffer from poor concentration or judgment, memory loss, irritability and/or depression from lack of sleep?
Are you 15 pounds over the normal weight range for your height and/or does you neck measure more than 17 inches around if you are male and 16 inches if you are female?
If you answered, "yes" to any of the above questions, you should share your responses to all of these questions with both your physician and us so that you can receive a thorough examination to address your sleep concerns. And if you are diagnosed with OSA, we can help with specific oral treatment options that may work best for you.
Learn More
Learn more about the signs, symptoms, and treatment options when you read "Snoring & Sleep Apnea." Contact us today to discuss your questions or to schedule a consultation.